Computerized:
Computerized
Certification:
CE, ISO9001:2008
Voltage:
380V 50Hz or Customized
Transport Package:
Wooden Pallet
Origin:
Zhangjiagang City, Jiangsu, China
               
     Heavy-Duty Shredder Granulator for Pipe Film Bottle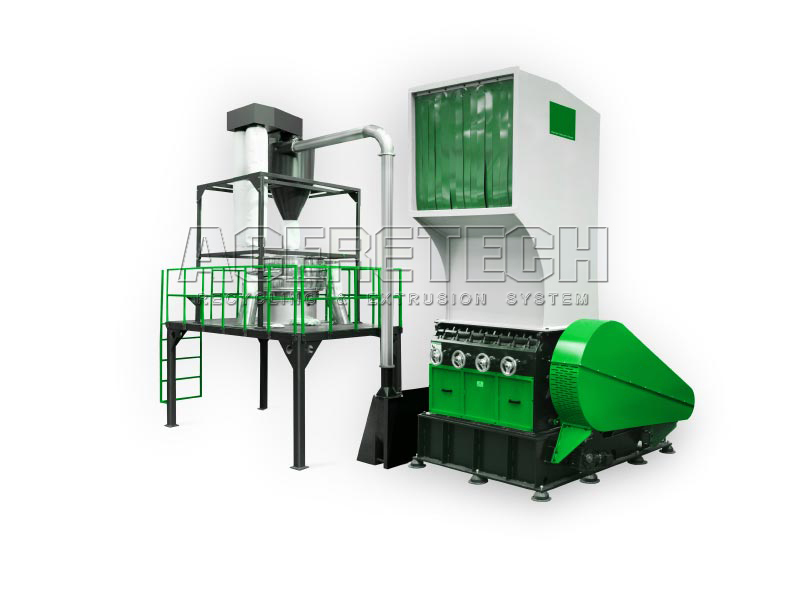 ACERETECH is and always will be your ideal partner from negotiating to seeking best solutions, from machine installation to maintenance in
Plastic
or rubber size- reduction and recycling field.
ACERETECH offers best technology on size reduction for special applications concerning all kinds of plastic defects.
Enclosure structure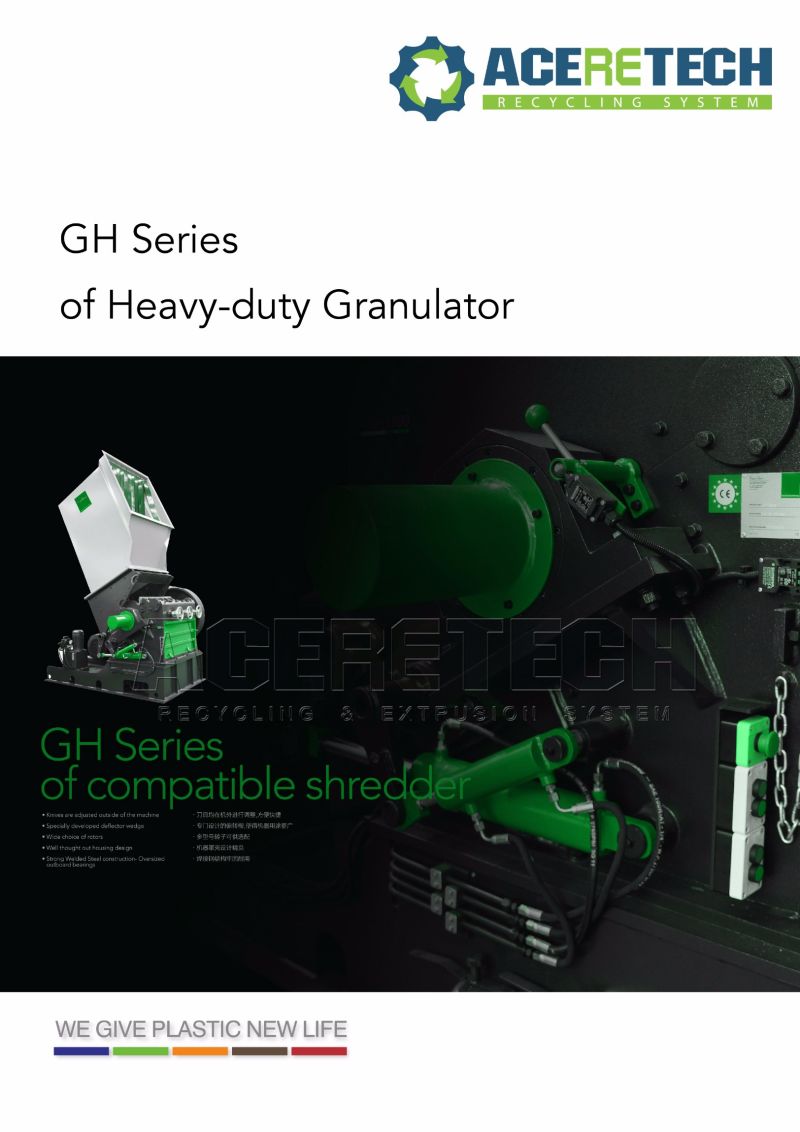 General Description
The heavy duty granulators of the GH series offer a wide array of different rotor designs with widths ranging from 700 mm to 1400 mm with a diameter of 700mm. The completely welded heavy steel construction is designed to withstand the most demanding and universal applications. Rotor bearings, knife mounts and rotor shaft are oversized. The standard V-cut creates a high quality regrind with a very low percentage of fines in the output material. The removable third stator blade is acting as a deflector wedge and allows the machine to be quickly adjusted to different application
Other
standard features include easily replaceable wear plates in the cutting chamber as well as outboard bearings reducing the risk of contamination.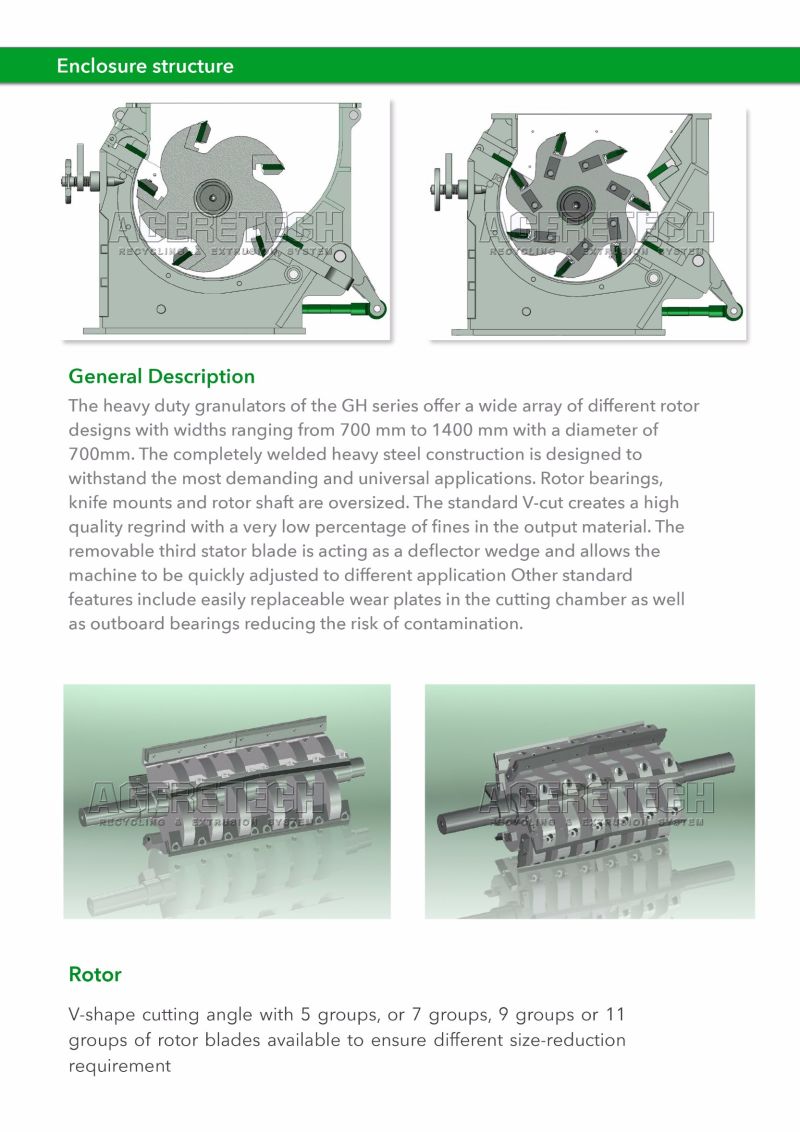 Rotor
V-shape cutting angle with 5 groups, or 7 groups, 9 groups or 11 groups of rotor blades available to ensure different size-reduction requirement
GH Series Applications
The wide range of rotors and hopper styles allow the GH machines to be tailored to almost every application in the plastic recycling field. The GH series granulators are mainly used as large central granulators for in house recycling applications to process large thick walled parts in one step or as a second step granulator after a shredder to reach higher throughput rates. When used to grind light materials, such as bottles the throughput can be greatly increased with the addition of ACERETECH force feeding device.For abrasive,contaminated or highly filled materials the machines can be equipped with special wear protections, such as hard facing of the rotor and housing and key parts manufactured from highly wear resistant steels.
ACERETECH, GH series is specially designed for size-reducing all kinds of thick-wall resin, timber, aluminum foil in the shape of film, sheet, runner, tubular construction or hollow container. Conveyor belt, ventilator, storage silo and dust collecting system are available for larger output.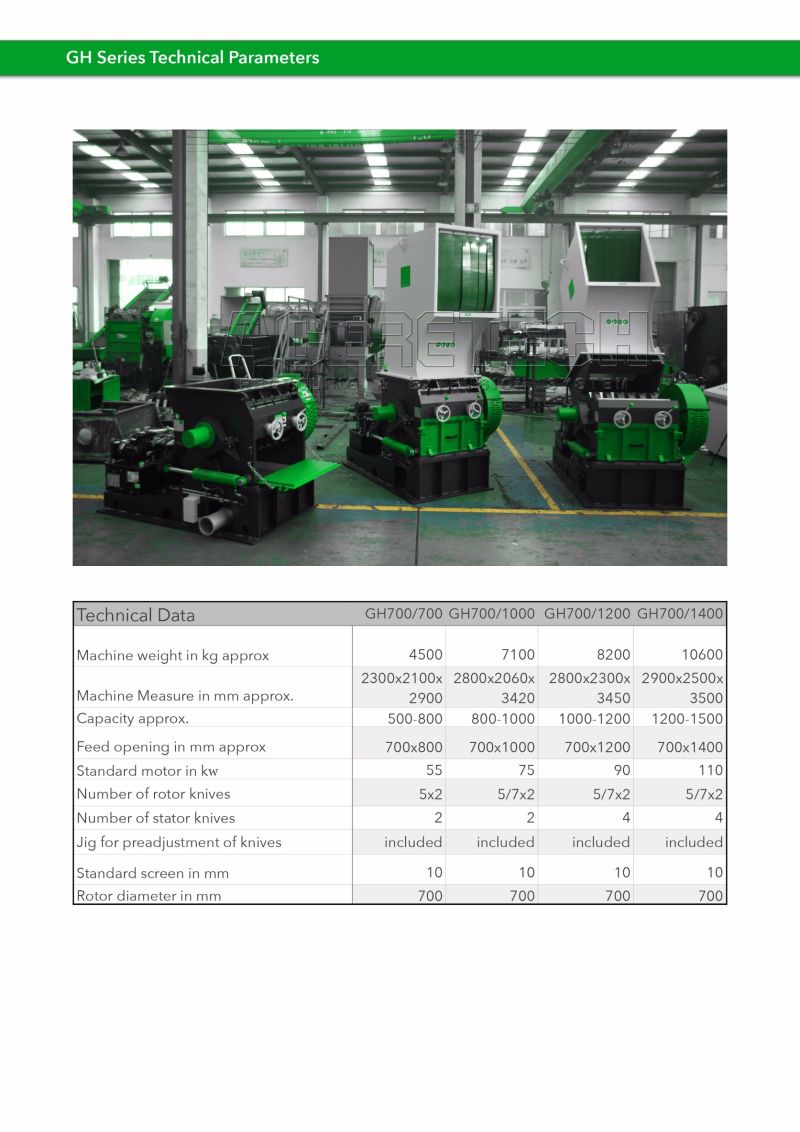 GH Series Technical Parameters
Technical Data
GH700/700
GH700/1000
GH700/1200
GH700/1400
 
Machine weight in kg approx
 
4500
 
7100
 
8200
 
10600
 
Machine Measure in mm approx.
2300x2100x
2900
2800x2060x
3420
2800x2300x
3450
2900x2500x
3500
Capacity approx.
500-800
800-1000
1000-1200
1200-1500
Feed opening in mm approx
700x800
700x1000
700x1200
700x1400
Standard motor in kw
55
75
90
110
Number of rotor knives
5x2
5/7x2
5/7x2
5/7x2
Number of stator knives
2
2
4
4
Jig for preadjustment of knives
included
included
included
included
Standard screen in mm
10
10
10
10
Rotor diameter in mm
700
700
700
700
Mechanical Pencil,Plastic Mechanical Pencil,Automatic Pencil
Glee Stationery Firm , http://www.china-stationery-supply.com