Lubricating Capacity:
18L
Transport Package:
Wooden Case
Specification:
CE, RoHS, SGS, GMP
Origin:
Yangzhou, Jiangsu
1.WEICHAI diesel engine
2.4/6 cylinder in-line, 4-stroke, liquid cooled
3. Naturally aspirated, turbocharged, or turbocharged with air intercooler
4. Electronic governing
5. Fuel injection pump
6. Electric motor starting system
7. Forged steel crankshaft, cast iron cylinder and replaceable wet type cylinder liner
8. Low discharge, and low fuel consumption
9. Installed conveniently and maintain easily
10. Radiator 40°C max, fans are driven by belt, with safety guard 
11. Anti Vibration Suspension Absorber
12. Dry type air filter, fuel filter, oil filter
13.8-hour operation base tank
14.24V DC start motor and storage battery
15.24V charge alternator
16.24V batteries, rack and cable
17. Ripple flex exhaust pipe, exhaust siphon, flange, and muffler
18. Comply with ISO and CE standards. 
19. Mould case circuit breaker
 
Alternator Feature
1. Copy stamford(or original stamford, leroysomer, marathon etc. )
2. Brushless, 4Â poles, rotation magnet
3. IP21-23(NEMA1) enclose is standard for all industrial alternators
4. HÂ class insulation system
5. AVR self-regulated, voltage regulation rate: ≤±1%
6. Simple installation and maintenance with easy access to terminals, rotating diodes and coupling bolts
7. Wide range of flange adaptors and single bearing disc coupling
8. Radio interference restraining accords with the stipulation of VDE0875-N and ISO8528
9. Moisture proof, sand-proof, dustproof, salt-proof and vibration-proof
10. Dynamically balanced rotor to BS 5625 grade 12.5
11. High-quality lubrication sealed for long-life bearing
12. Independent over-load protection
13. Unique sensors protection, adapt to all sensors
 Control system: 
1. Start or Stop Generator set manually /Â automatically
2. Open controller output can be defined as Pre-heat/Idle output
3. High Coolant temperature protection
4. Low Oil pressure protection
5. Over load protection
6. Generator over/under frequency protection
7. Generator over/under/unbalance voltage Protection
8. Over speed protection 
 
Soundproof Canopy Feature
1. Excellent ventilation
2. Oil tank mounted on base frame for at least 8Â Hours working
3. Highly Corrosion Resistant construction
4. Excellent Access for Maintenance
5. Security and Safety
6. 1m<80DBA /Â 7m<70DBA
7. With steel sheet
8. Stainless steel locks
9. Control panel viewing window for monitoring the status of the generator set
10. Good ventilation system and anti-heat radiation construction
11. Effective anti-vibration devices to ensure the generator set run steadily
12. Super silent materials inside to ensure the noise lower than 70 dB 7Â meters away
13. Emergency stop button mounted outside
14. Side lockable door easy for maintenance and installation
15. Lube oil and cooling water drains piped to exterior of the canopy
 
 
| | |
| --- | --- |
| PRIME POWER (KVA/KW) | 125/100 |
| Rated voltage(V) | 400/230 |
| Rated speed(rpm) | 1500 |
| Rated frequency(Hz) | 50 |
| Power factor | 0.8 |
| Ambient temperature(°C) | 40 |
| Altitude(m) | 1000 |
| Connection type | 3 phase 4 wires |
| ENGINE MANUFACTURER | WEICHAI |
| Model | R6105ZLD |
| No. of cylinders & configuration | In-Line 4 cylinders |
| Method of operation | 4-stroke |
| Speed regulation | Mechanically governor |
| Starting system | DC 12V Electronic start |
| Cooling method | Closed-circuit cooling system |
| Total displacement(L) | 6.75 |
| Bore×Stroke(mm) | 105×130 |
| 100% Load fuel consumption(L/h) | ≤4.3 |
| ALTERNATOR MANUFACTURER | STAMFORD |
| Number of Phase | 3 |
| Connection Type | 3Phase and 4Wires |
| Number of Bearing | 1 |
| Power Factor | 0.8 |
| Protection Grade | IP23 |
| Terminal | 12 |
| Winding/ Pitch | 100% Copper   2/3 Pitch |
| Cooling Fan | Cast alloy aluminum |
| Exciter Type | Brushless, Self-Exciting |
| Insulation Class, Temperature Rise | H/H |
| Telephone Influence Factor( TIF) | TIF <50 / THF<2% |
| Total Harmonic TGH/THC | <1.5% at no load / <5% at load |
| Voltage Regulation, Steady State | ≤±1% |
| Sustained Short-Circuit Current | 300%(3 in):10s |
| CONTROL SYSTEM | DSE SERIES |
 
 
Packaging & Delivery    
| | |
| --- | --- |
| Packaging Detail: | generator standard exporting package |
| Delivery Detail: | within 5-25working days after the deposit |
 


Company Information
     
Yangke Machinery Electric is a high-tech generator manufacturer which contains R&D, production and marketing together.
Our company not only establishes humanized modern enterprise with perfect quality management system and certification authority, but also equipped with international advanced facilities of R&D, manufacture and test. The concept of our company is to develop the best product, to provide the best service. We will spare no effect to serve our customer with products of high quality and after-sales service in a variety of ways.
With the help of the technical strength, our company has formed a structure of product series. The current main products are: QS series 8-3000KVA brushless alternators, which can be coupled with both domestic and foreign brands of diesel engines.
We only offer products using major engine brands such as Cummins, Perkins, Doosan, MTU Diesel/Mitsubishi etc. At YANGKE, we also customize the standard models to meet your unique requirements. Our Generators are also top of the line and come with base mounted fuel tanks, battery, battery rack and cables, vibration isolators between engine/diesel generator and base frame, a circuit breaker to protect the generator from overload and a two-wire auto start ready controls for automatic transfer switch operation. (Note: Automatic Transfer Switch Required for True Auto Operation).
Our products are sold to Southeast Asia, central Asia, the Middle East, Africa and South America.
 Sales promises:
YANGKE power provides a full line of brand new and high quality products. Each and every unit is strictly factory tested.
Warranty is according to our standard conditions :
a. 15months,counted on the day YANGKE sold to the first buyer;
b. one year after installation;
c.1000running hours(accumulated),subject to the earlier one.
Service and parts are available from YANGKE POWER or distributors in your location.
 
Contact
Yangzhou YANGKE Machinery Electric Co.,Ltd
Contact person:Tina
Mobile:+8618952721120
Fax:0514-86822288
Tel:0514-82275368
Web:www.cndgss.com
 
    
  
The thick film heating technology is new type of heating technology which is developed mainly by DuPont and Heraeus in 1990s. They developed the electronic paste can be used on the stainless steel substrate firstly. Using screen printing technology to print and sinter dielectric layer, resistance layer, silver conductor layer and isolation glazes protective layer on the stainless steel, so as to obtain a new type of Heating Element


Thick film heater can successfully replace Traditional Electric Heating Tubes/Elements, change their structures and performance completely, which can reduce energy consumption, increase energy utilization and save space.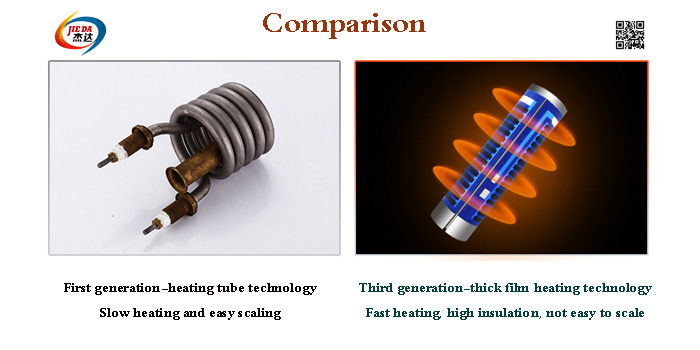 Thick Film Heater Elements are widely applied in Instant Hot Water Dispenser, instant boiling water heaters, sous vide, coffee maker, electric heating water faucet, instant water flow heater under sink, diswasher, washing machine,formula dispenser, vending machine, industrial water flow heater, circulating heating of swimming pool water, industrial equipments etc.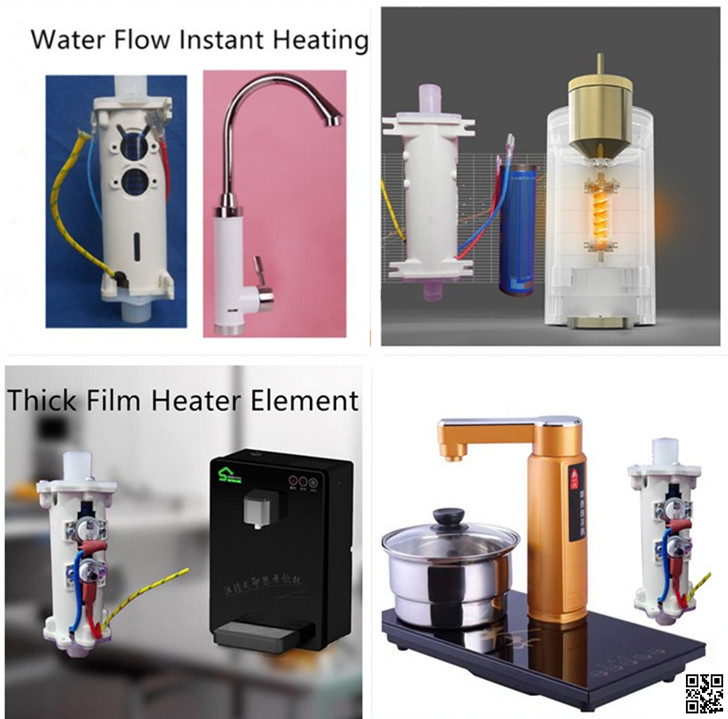 Heater Category by Application
Heater Category by Application,Heater Category,Small size heater,electric tubular heater
XINXIANG JIEDA PRECISION ELECTRONICS CO.,LTD , https://www.tubularheater.de