 Earlier this year, the Ministry of Industry and Information Technology announced the "12th Five-year Development Plan for the Olefins Industry" and proposed that by 2015, the diversification rate of olefinic raw materials will reach more than 20%. How should the olefin industry seize this major opportunity and achieve stable development? At the first symposium on technical diversification of propylene raw materials held in Shanghai recently, participating experts believed that the scientific development of the propylene industry must adhere to the technical and economic comparison method, achieve orderly planning and reasonable investment, and adopt local and timely measures. A new way of diversifying propylene raw materials to adapt to China's national conditions.
Propylene, like ethylene, is the foundation of modern chemical industry. China's propylene is mainly used for the production of polypropylene, acrylonitrile, butyl/octanol, propylene oxide, acrylic acid, and phenol and acetone, among which polypropylene is the first one. Traditional propylene production methods are light hydrocarbons and naphtha pyrolysis. At present, the tight supply of crude oil has caused the contradiction between petroleum and petrochemical products to become increasingly prominent. Propylene feedstock has been in short supply and has long depended on imports. Affected by high oil prices this year, the propane price in the international market fluctuates frequently, from 1300 US dollars/ton at the end of January to 1,500 US dollars/ton in mid-April.
The diversification of propylene raw materials in China is imperative, and there are basically no major obstacles in terms of the technical route. Shu Zhaoxia, chief expert of Sinopec Research Institute of Economics and Technology, believes that the main application technologies for increasing propylene production in the next few years include propane dehydrogenation to propylene (PDH) and coal/methanol to olefins (MTO/MTP), olefin cracking (OCP) and olefin conversion. Propylene production technologies such as (OCT) and fluid catalytic cracking (FCC) will also be better promoted.
If during the "Twelfth Five-Year Plan" period, China's production capacity of 10 million tons of methanol to olefins is built, it can save 30 million tons of naphtha, and the corresponding crude oil import volume can be reduced by about 100 million tons, which is very important for ensuring China's energy security. The important role.
After years of efforts, the pattern of diversification of propylene raw materials in China has taken initial shape: On the one hand, domestic steam cracking and catalytic cracking plants of refineries are undergoing transformation to expand propylene production capacity; on the other hand, coal has been put into production, under construction, or in planning. Methanol to olefins, as well as propane dehydrogenation projects, including the world's first set of independent technology, an annual output of 600,000 tons of Shenhua Baotou coal olefins demonstration project has been put into commercial operation.
According to Mu Xin, Deputy Director of the Marketing Department of Emerging Energy Technology Company, the Shenhua Baotou project has been running smoothly, freeing the raw materials for the production of ethylene and propylene from dependence on oil. From a worldwide perspective, it has opened up a coal with more abundant reserves ( Or natural gas to make new routes to ethylene and propylene.
Different propylene production technologies vary in their competitiveness. Enterprises need to consider comprehensively and prevent risks according to their actual conditions. The data show that a set of annual production capacity of 460,000 tons of coal-based propylene remanufactured polypropylene production equipment, the investment amount is 2.883 billion US dollars; a set of annual output of 350,000 tons of propane dehydrogenation equipment investment of 215 million US dollars; and catalytic cracking The investment cost for the upgrade of the equipment is the lowest, and an annual output of 250,000 tons of propylene equipment is only 35.7 million US dollars.
Xia Lei, General Manager of Asian Chemicals Consulting Co., Ltd., believes that the development of coal-to-olefins projects in coal-rich regions is highly cost-effective in the current era of high oil prices, but the one-time investment is large and the construction period is long; while the development of propane dehydrogenation and propylene should be considered. Built in the coastal areas, taking advantage of its port terminals and logistics, this investment cost will not be great, but it must consider the fluctuation of imported propane raw material prices, which may affect the profitability of enterprises.
The propane dehydrogenation process currently has no industrial application examples in China. However, about 10 such projects are under construction or planning, including an annual production of 600,000 tons of propane dehydrogenation project by Tianjin Suihua Petrochemical Company and Jiangsu Yangtze International Chemical Industry Park. 1.2 million tons of propane dehydrogenation to propylene project. At the seminar, several experts suggested that if the ton spread between propane and propylene on the international market can reach more than US$400, the dehydrogenation of propane to propylene will produce better economic benefits.
Experts at the meeting proposed that the world's methanol production capacity is greater than demand, and this year's global methanol production capacity is expected to exceed 70 million tons, of which the methanol production capacity in the Middle East will also reach more than 25 million tons. The overcapacity in the methanol market has made it possible for some domestic companies to purchase methanol to build MTO projects. Experts believe that under the premise of ensuring economic efficiency, China can appropriately import methanol-to-olefins projects in coastal areas.
Domestically-built and under-constructed coal-to-olefins projects (including externally-purchased methanol to olefins) have mostly chosen MTO process to produce both ethylene and propylene. Only Shenhua Ning Coal and Datang Duolun Project use downstream polypropylene as the main product. . Yan Liping, deputy chief engineer of Huayi Group, suggested that the new project should consider the extension of the industrial chain, including the construction of polypropylene, propylene oxide, acrylic and other devices; the hydrogen produced by by-products can be combined with propylene oxide, caprolactam, coal to methanol, refining The device considers linkage and deep use of resources and eventually achieves integrated development.
In addition, the prevention of excessive propylene production capacity has once again caused the concern of experts. Shu Zhaoxia pointed out that many companies are contending for projects and that there may be "a swarm" phenomenon, resulting in a shortage of raw materials for propane and an increase in prices. Ultimately, the company has no profit. Therefore, it is recommended that the China Petrochemical Federation strengthen the transparency of information, timely release industry trends, and give corporate investment guidance to prevent the blind and disorderly expansion of the domestic propylene industry.
5D Wheel Alignment for Two-post Lift is a product which can be use for Two-post Lift Wheel Alignment. It test the car on the ground by dynamic test. The adjustment is on the lift. When the car is lifted, the adjustment can be more precise. 5D Wheel Alignment has brought great business opportunity for many carshops only with two-post lift.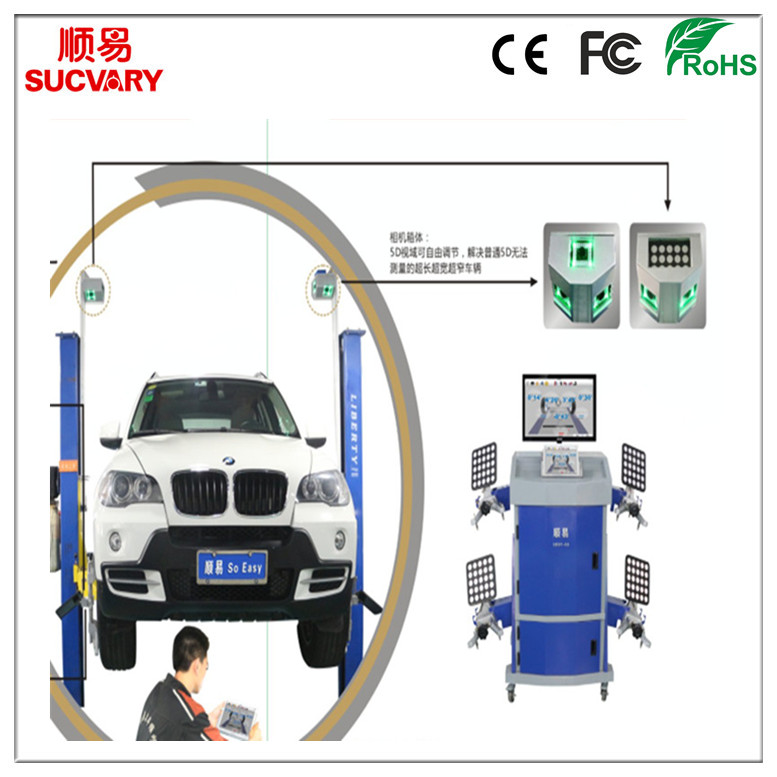 5D Wheel Alignment For Two-Post Lift
5D Wheel Alignment For Two-Post Lift,Wheel Alignment For Two-Post Lift
Shenzhen Sucvary Tech Co., Ltd. , http://www.syalignment.com